Aptitude Tests 4 Me
Download Free EBooks for Various Types of Aptitude Tests


1. Passage Reading 2. Verbal Logic 3. Non Verbal Logic 4. Numerical Logic 5. Data Interpretation 6. Reasoning 7. Analytical Ability 8. Quantitative Aptitude


Basic Numeracy/Quantitative Aptitude
Detailed Solution
78. d: To calculate the total spent in bonuses we have to multiply the bonus by the number of employees for each bonus amount: (50 x 7)+ (100 x 37)+ (150 x 4)+ (200 x 2) = 5050. Now divide by the total number of employees to find the average = 5050/50 = 101
79. c: The median is the middle term in the ranked series. There are 50 terms and so the median is the average of the middle two terms. Both middle terms will be 100. Mean is 101 and mode is the most common term which is 100. Hence median and mode are equal and less than the mean.
80. b: First rearrange the equation into the form y = mx + c; y = 2x – 5 From this we know the slope is 2 and so the equation we are looking for must have the 'm' value = 2. We are also told that the equation must pass through the origin; this means that the 'c' value must be 0. In B we can rearrange to get y = 2x which fulfills both requirements.
81. c: The heights of 20 evergreen trees are represented in the stem-and-leaf plot. There is 1 tree that is 37 inches tall,3 trees that are 54 inches tall, and so on. There are 6 trees over 55 inches tall - they range from 58 inches tall to 65 inches tall. Six of the20 trees is 6/20 = 30/100 = 30% 71.
82.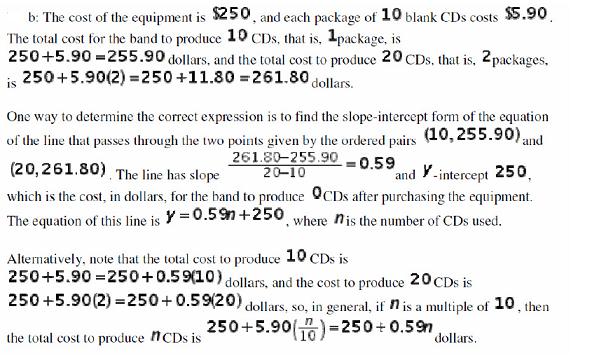 Passage Reading

Verbal Logic

Non Verbal Logic

Numerical Logic

Data Interpretation

Reasoning

Analytical Ability

Basic Numeracy

About Us

Contact

Privacy Policy

Major Tests

FAQ
---