Aptitude Tests 4 Me
Download Free EBooks for Various Types of Aptitude Tests


1. Passage Reading 2. Verbal Logic 3. Non Verbal Logic 4. Numerical Logic 5. Data Interpretation 6. Reasoning 7. Analytical Ability 8. Quantitative Aptitude


Basic Numeracy/Quantitative Aptitude
Detailed Solution
10. c: The correct answer was 1/5.
Even though the spinner just landed on 1, it doesn't change the outcome of the next spin. There is only one way to spin a 1, and there are five spots for the spinner to land on. The probability is 1/5
11. c: The correct answer was 1/64.
You have to flip heads five times in a row to win $1000. The probability of flipping heads once is 1/2, so the probability of flipping heads five times would be (1/2 * 1/2 * 1/2 * 1/2 * 1/2), or 1/32. However, the game is not over yet. In order to end the game, you must now flip tails. The probability of that is 1/2. 1/2 * 1/32 = 1/64.
12. b: The correct answer was 1/2.
A composite number is a number with more than two factors. We see that 4, 6, 8, 9, 10, and 12 are composite when we look at their factors. 6 out of the 12 numbers are composite. 6/12 simplifies to 1/2.
13. Since the answer doesn't depend on the value of x (the probability will be the same no matter what x is), let x = 1. Then the area of the whole square is 32 = 9. The area of each shaded triangle or of all the white sections can be calculated, but there's an easier way: notice that, if you slide the four shaded triangles together, they form a square of side 1. Therefore, the total shaded area is 1, and so the shaded area is 1/9 of the total area and the probability that the chosen point is in the shaded area is 1/9 (A).
The idea of subtracting a part from the whole works with line segments as well as areas.
14.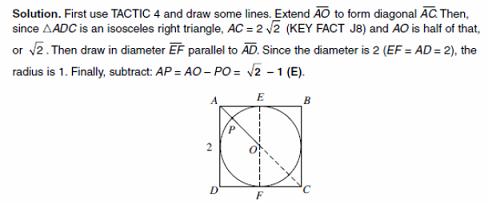 Passage Reading

Verbal Logic

Non Verbal Logic

Numerical Logic

Data Interpretation

Reasoning

Analytical Ability

Basic Numeracy

About Us

Contact

Privacy Policy

Major Tests

FAQ
---