Aptitude Tests 4 Me
Download Free EBooks for Various Types of Aptitude Tests


1. Passage Reading 2. Verbal Logic 3. Non Verbal Logic 4. Numerical Logic 5. Data Interpretation 6. Reasoning 7. Analytical Ability 8. Quantitative Aptitude


Basic Numeracy/Quantitative Aptitude
Detailed Solution
266.

267.

268.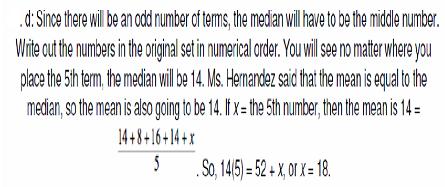 269. b: Letís assume the worst-case scenario. Jerome draws an odd. Then an even. This gives an odd number. Next he draws another even. Now we have an odd again. Then he draws an even. Again the sum is odd.
So, to sum it up,
We have 10 odd and 10 evens.
If his first draw is odd, then the next 10 are even, we still have an odd sum. The tie breaker will be the 12th card, which now has to be odd since all evens havebeen exhausted. So if the first card drawn is odd, then we must DRAW 12CARDS.
If the first is even, then the second is odd, again we have an odd number. Now we only have 9 evens lefts, we must exhaust all of them to get an odd one. So again, 12 cards.
So the answer is 12. The 12th draw ensures an even sum.
270.



Passage Reading

Verbal Logic

Non Verbal Logic

Numerical Logic

Data Interpretation

Reasoning

Analytical Ability

Basic Numeracy

About Us

Contact

Privacy Policy

Major Tests

FAQ
---